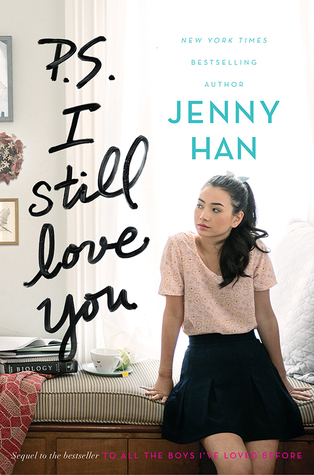 Presenting
To All The Boys I've Loved Before #2 P.S. I Still Love You by Jenny Han
.
Here is the summary of the book:
Lara Jean didn't expect to really fall for Peter.
She and Peter were just pretending. Except suddenly they weren't. Now Lara Jean is more confused than ever.
When another boy from her past returns to her life, Lara Jean's feelings for him return too. Can a girl be in love with two boys at once?

In this charming and heartfelt sequel to the New York Times bestseller To All the Boys I've Loved Before, we see first love through the eyes of the unforgettable Lara Jean. Love is never easy, but maybe that's part of what makes it so amazing.
Like the first blush of spring and the warmth of summer, Lara Jean Song Covey and Peter Kavinsky were. Their endearing tale rose on a calm and us gullible readers couldn't help but be swept away by the innocence and sweetness of their shenanigans in 'To All The Boys I've Loved Before'.
Just like Lara Jean didn't plan on falling for Peter K, so were we not looking towards loving them both .... but it seems inevitable that just like we fell for these two, Lara Jean also fell for Peter K ... Of course we weren't going to be satisfied with a 'Dear Peter' ending to their beginning so the sequel 'P.S. I Still Love You' is both the finale we want and the finale we needed.
Playing pretend and doing it for real are hugely different things. now Lara Jean and Peter are together for real. And she is not sure what the perimeters of their relationship are. Peter still talks to Genevieve and she (Genevieve) still relies on him. So while they are definitely not together, it still scares Lara Jean because she was his ex. When that ex is a class 'A' manipulative bitch, you tend to feel insecure in your other half.... Can't blame Lara Jean for that, it happens to everyone.
But their best quality, no matter how much they fight ... they also know to talk it out and resolve to learn from said mistakes. The hot tub scene plays its opportune havoc and the other guy - John Ambrose McClaren makes his entry .... Really we have known the endgame since the start but DAMN, the new guy almost carves a niche for himself when he makes himself a place during Lara Jean's low moments... But really there was never a chance for him.
As far as our power couple are concerned, really they have both come a long way from when they began. They grow to trust each other and rely on each other fully as the story progresses. In any relationship you can't go in by half-measures, you have to contribute your due and Lara Jean and Peter get that ... And they just complement each other so well and loved how Jenny Han makes them work for it.
Some of the best moments of this book, illuminated some very important topics across. Family. The bond of sisters. Relationships and Sex. The connection between Lara Jean and her sisters Margot & Kitty and her Dad always remained in the front of the mind. You don't really see this level of commitment in a family unit in YA these days. That in itself is a marvel to behold.
Of course Lara Jean has always been the dreamer. She wants simple things in life. She sees life in a much different way than those around her do. And when Peter and she start to date, she wonders about sex. She is not ready for that big leap and Peter, sweet, beautiful confident boy ... he gets it ..... Sex is something you shouldn't take lightly and kudos to the author for stressing on it.
I loved this book. I loved everything about this book. Its sugary, its sweet, and all that is nice with the realities of life messed into these pages. I am definitely going to re-read these books a lot because Lara Jean and Peter Kavinsky have carved a stronghold in my mind and ..... I'm not ready to say goodbye to them at all. I highly recommend it readers, you need to get this duology ..... 'cause its worth it.
"Subtle, sweet and tantalizing. You won't be able to put it down once you start"
IMPORTANT NOTICE = Not duology anymore .... YAY ...... There is another book coming soon in the series.... SO HAPPY..... MORE LARA JEAN and PETER K ..... According to Goodreads, its titled, "Always and Forever, Lara Jean"
I wrote the review way before this news was announced so i decided not to change anything up there !!
Genre : Young Adult, Contemporary, Romance
Publisher: Simon & Schuster Books for Young Readers
Release Date:
26th May, 2015
My Copy: bought (hardback)
Rate:
5
/5 (It was Amazing)
Other Books in the Series(review links):
Buy:
Amazon
|
Book Depository