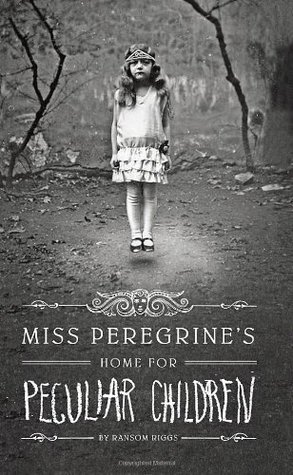 Presenting
Miss Peregrine's Home for Peculiar Children #1 Miss Peregrine's Home for Peculiar Children by Ransom Riggs
.
Here is the summary of the book:
A mysterious island. An abandoned orphanage. A strange collection of curious photographs.

A horrific family tragedy sets sixteen-year-old Jacob journeying to a remote island off the coast of Wales, where he discovers the crumbling ruins of Miss Peregrine's Home for Peculiar Children. As Jacob explores its abandoned bedrooms and hallways, it becomes clear that the children were more than just peculiar. They may have been dangerous. They may have been quarantined on a deserted island for good reason. And somehow—impossible though it seems—they may still be alive.

A spine-tingling fantasy illustrated with haunting vintage photography, Miss Peregrine's Home for Peculiar Children will delight adults, teens, and anyone who relishes an adventure in the shadows.
REVIEW ==
Gorgeous Cover. Amazing plot. Wicked use of unusual vintage photography with the said plot. Miss Peregrine's Home for Peculiar Children is the first part of the trilogy and damn did it surprise me. OKAY .... for those of you who still haven't read it or are planning to should note that while the cover may give the appearance of a horror genre, it is not really. It is more of an X-men meets time-travel adventure.
That being this is one cool adventure. It begins with Jacob, who after the horrifying murder of his grandfather journeys to the remote island of the coast of Wales in search of the home where his grandfather spent a happy childhood, hoping for closure. And maybe find out more about the unusual pictures he found in his grandfather's belongings.
Of course searching the derelict house, he finds out the children were oddly peculiar, maybe dangerous as the synopsis points out and maybe not really dead as facts would suggest. What follows is a wonderful adventure through time. New friendship. New adventures. New revelations. Horrid monsters whom only Jacob could see and a collection of awesome powers.
Jacob of course is the only one i am going to mention here. He mabe young still but possess a sharp mind and is very resourceful. His character kinda reminded me a bit of Dr. Watson (BBC Sherlock one) who says nothing happens to him to his physicist before he meets Sherlock. Jacob felt like that going through life the slow lane and proclaiming his ordinariness. Of course then the world explodes into a plethora of colors when he finds the Children's home. It was quite endearing to see him react to the children and discover that hidden world.
Let me just say that after the initial shock wears off, this book just can't resist throwing something colorful at you even with its black and white adorned pages. Marvelous job by Ransom Riggs. Telling and creating such an imaginable and highly creative story.
People complained that they had problems going through this book ..... Don't mind them this is actually a pretty fast paced read with promises of a great adventure. I am definitely excited to explore this world more in the sequels. Well done!
"X-men meets time-travel n this wicked cool mix of prose and vintage photography"
Genre : Young Adult, Paranormal, Fantasy
Publisher: Quirk
Release Date: 7th June, 2011
My Copy: bought (paperback)
Rate:
4
/5 (Really Liked It)
Buy: Amazon | Book Depository