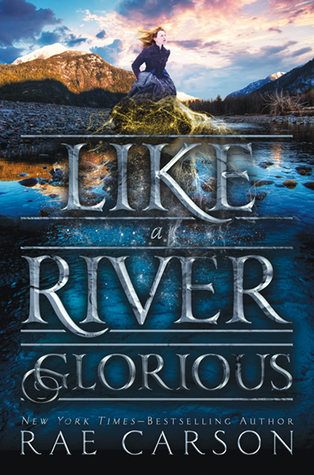 Presenting
The Gold Seer Trilogy #2 Like A River Glorious by Rae Carson
.
Here is the summary of the book:
After a harrowing journey across the country, Leah Westfall and her friends have finally arrived in California and are ready to make their fortunes in the Gold Rush. Lee has a special advantage over the other new arrivals in California—she has the ability to sense gold, a secret known only by her handsome best friend Jefferson and her murdering uncle Hiram.

Lee and her friends have the chance to be the most prosperous settlers in California, but Hiram hasn't given up trying to control Lee and her power. Sabotage and kidnapping are the least of what he'll do to make sure Lee is his own. His mine is the deepest and darkest in the territory, and there Lee learns the full extent of her magical gift, the worst of her uncle, and the true strength of her friendships. To save everyone, she vows to destroy her uncle and the empire he is building—even at the cost of her own freedom.

The second epic historical fantasy in the Gold Seer trilogy by Rae Carson, the acclaimed author of The Girl of Fire and Thorns.
REVIEW ==
Begins where 'Walk On Earth A Stranger' ended. The group is now in California but the journey had not been a bed of roses. Losses were had and grievances were dealt with. Consequently bringing the group closer than before, looking to finally put down roots and stake their claims before they began to mine for gold.... Of course not everyone remained, some leaving to return the way they came fearing for their safety and the pull of gold that may not necessarily be a good thing.
But for those that remained the Gold Rush promises much prosperity as settlers in California. Leah Westfall has her own secret ability to consider, her relationship with best friend Jefferson and finally doing something about her murderous Uncle Hiram is just one of her many problems. The best aspect of this series throughout these two books would definitely be how Carson developed all the characters throughout their many ordeals and how they came together as a tight-knit family as they settle down and start building their new future.
I'd be truthful I had actually forgotten some of what happened in the first book. But it didn't seem like an issue once I began reading this book. The author does a great job of reminding us of the details as she buildup from where the first one ended. As a protagonist Leah/Lee has been a consistently strong throughout the story. More so in this book, as she slowly gets more stronger with her abilities and has to finally deal with her Uncle Hiram and hopefully save everyone from the his clutches..... And maybe finally be able to give an answer to Jefferson and her own happiness.
'Like A River Glorious' had everything we missed out on in the first book. The characters are much stronger, the plot develops and branches out more. We finally get to see more of Leah's powers and that epic showdown was just brilliant....... And the book cover is just too gorgeous to be left alone.
"A Golden Sequel. Effectively stronger generously developed."
Genre : Young Adult, Historical fiction, Romance
Publisher: Greenwillow Books
Release Date: 27th September, 2016
My Copy: publisher & edelweiss
Rate:
4
/5 (Really Liked It)
Other Books by the Author(review links):
#1 Walk On Earth A Stranger
Buy:
Amazon
|
Book Depository