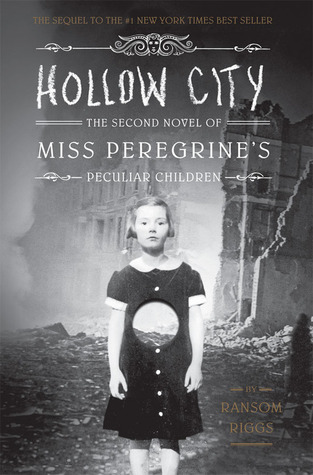 Presenting
Miss Peregrine's Peculiar Children #2 Hollow City by Ransom Riggs
.
Here is the summary of the book:
Miss Peregrine's Home for Peculiar Children was the surprise best seller of 2011—an unprecedented mix of YA fantasy and vintage photography that enthralled readers and critics alike. Publishers Weekly called it "an enjoyable, eccentric read, distinguished by well-developed characters, a believable Welsh setting, and some very creepy monsters."

This second novel begins in 1940, immediately after the first book ended. Having escaped Miss Peregrine's island by the skin of their teeth, Jacob and his new friends must journey to London, the peculiar capital of the world. Along the way, they encounter new allies, a menagerie of peculiar animals, and other unexpected surprises.

Complete with dozens of newly discovered (and thoroughly mesmerizing) vintage photographs, this new adventure will delight readers of all ages.
REVIEW ==
Begins just where Miss Peregrine's..... ended. Hollow City was a bit of a hit and miss for me. The second books are usually bridges between the first and the third books. And unfortunately Hollow City became just that. Although like its predecessor this book is a fast read, while still somewhat retaining that mystery and magic. Somehow it wasn't all there.
The vintage photos that accompany the plot was marvelous as usual, mainting the level of subtle darkness and providing us readers with an exclusive look into the adventure. The children are still searching for someone who could turn Miss Peregrine back to her human form before the change becomes permanent.
Obviously the journey isn't without peril. But along the way there were impossible and mysterious discoveries as well. And while it wasn't as great as the first book I did like what I read and will definitely be reading the finale Library of Souls.
"Mesmarising and exciting"