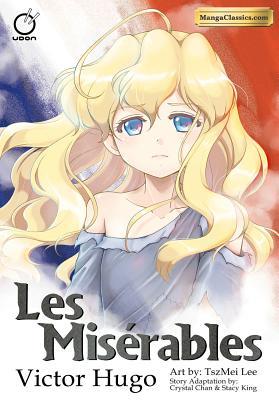 Presenting
Manga Classics: Les Misérables by Stacy King, TszMei Lee, Victor Hugo
.
Here is the summary of the book:
Adapted for stage and screen, loved by millions, Victor Hugo's classic novel of love and tragedy during the French Revolution is reborn in this manga edition!
I have not yet had the chance to read the huge tome,i.e., Les Miserables but I have seen the 1998 (Liam Neeson, Geoffrey Rush, Uma Thurman) and the 2012 (Hugh Jackman, Russell Crowe, Anne Hathaway) movies. So, I knew what I was getting into. And turning it into Manga was a pretty brilliant move. Guaranteed to draw the attentions of modern and those of the reluctant ones who have no patients with the classics. Of course Graphic Novels or Manga lovers too would find this a new gem.
Manga caters more towards the graphical representation with to the point words so as a result its actually quite impossible to adapt every word for word from a huge tome like Les Miz but Stacy King and TszMei Lee have done a pretty good job of it. Thus, you get a beautiful graphic representation to this beautiful classic with all the key moments featured. While the graphics are successful in portraying the French Revolution era, the true hardship and despair faced by the characters gets lost in translation. But on the whole the author and illustrator did a great job with this, making it pleasing to the eyes.
"A brilliant manga adaptation to the Victor Hugo classic, Les Misérables"
Genre :
Graphic Novel, Manga, Classic
Publisher:
Udon Entertainment
Release Date: 12th August, 2014
My Copy: publisher and netgalley
Rate:
5
/5 (It was Amazing)
Buy:
Amazon