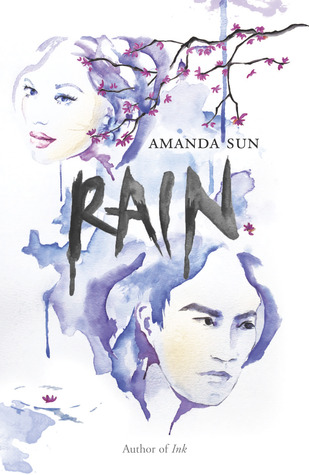 Presenting
Paper Gods #2 Rain by Amanda Sun
.
Here is the summary of the book:
American Katie Green has decided to stay in Japan. She's started to build a life in the city of Shizuoka, and she can't imagine leaving behind her friends, her aunt and especially Tomohiro, the guy she's fallen in love with. But her return is not as simple as she thought. She's flunking out of Japanese school and committing cultural faux pas wherever she goes. Tomohiro is also struggling—as a Kami, his connection to the ancient gods of Japan and his power to bring drawings to life have begun to spiral out of control.

When Tomo decides to stop drawing, the ink finds other ways to seep into his life—blackouts, threatening messages and the appearance of unexplained sketches. Unsure how to help Tomo, Katie turns to an unexpected source for help—Jun, her former friend and a Kami with an agenda of his own. But is Jun really the ally he claims to be? In order to save themselves, Katie and Tomohiro must unravel the truth about Tomo's dark ancestry, as well as Katie's, and confront on/e of the darkest gods in Japanese legend.
'Ink' opened a whole new avenue with a brilliantly portrayed and excellently depicted Japanese culture and sequel 'Rain' just follows through as an excellent next leg of the journey. Not many modern authors are able to portray the historically and mystically extensive Japanese culture into their stories but Amanda Sun's 'Paper Gods' stands tall and I am very happy I got to read and experience it.
So, Katie has decided to stay in Japan and be with Tomohiro and help deal with the Ink problem. Tomohiro on the other hand has his own problems. He may have decided not to draw anymore, to try keep the Ink at bay but it won't do and blackouts and threatening messages are just the start of it all. Of course Kami, of the likes of Amaterasu, Tsukuyomi, Izanagi and Susanoo in the mix is never a sign of harmony.
Katie is your ideal heroine. She lives out of her comfort zone in Japan. She is stubborn, intuitive, always ready to help and tries to see the good in all. Japan is still new to her but she is not one to accept defeat when threatened with International school as her grasp on the language is not yet good enough.. And most of all she by no means is ready to give on Tomohiro without a fight.
Tomohiro of course compliments Katie in every way possible. Hot and Broody and quite considerate towards others. In 'Rain' we actually saw him struggle to hold onto his identity. Like all boyfriends, he gets jealous when someone or rather Jun tries to usurp his territory. But his best quality aside from his all encompassing love for Katie, is that he is level headed and not quick to be swayed to suggestion (take that Shiori.... man she was such a bitch).
But the most development we saw in Jun, or rather degradation if you will. Till now we saw in calm and collected, but in the epic climatic fight secrets are revealed and what is truly in Jun's heart and what his agenda is. And Amanda Sun portrays it all in a simplistic and easy to understand script. No 2nd book syndrome whatsoever, Rain provides an authentic and exquisite sequel with its character driven plot, the myths and cultures and of course the Ink.
"A brilliant and unputdownable page turner"
Genre :
Young Adult, Paranormal, Urban Fantasy, Romance
Publisher:
Harlequin Teen
Release Date: 24th June, 2014
My Copy: publisher and netgalley
Rate:
5
/5 (It was Amazing)
Other Books in the series (review links):
#0.5
Shadow
#1 Ink
Buy:
Amazon
|
Book Depository