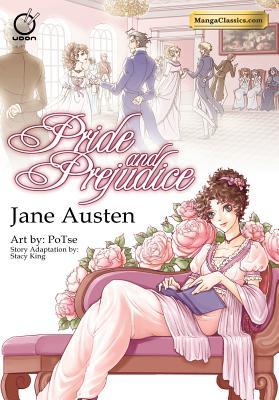 Presenting
Manga Classics: Pride & Prejudice by Stacy King, Po Tse, Jane Austen
.
Here is the summary of the book:
Beloved by millions the world over, Pride & Prejudice is delightfully transformed in this bold, new manga adaptation. All of the joy, heartache, and romance of Jane Austen's original, perfectly illuminated by the sumptuous art of manga-ka Po Tse, and faithfully adapted by Stacy E. King.
Pride & Prejudice definitely a favorite of mine. I have read the book, seen the Keira Knightly movie and the Hindi version, the Aishwariya Rai Bachchan one 'Bride & Prejudice' and this manga version is just so GORGEOUS. And just like I said for the manga adaptation of Les Miz, this too is a feast for the eyes and again eye-catching enough to attract the modern readers towards the classics.
Of course written and to be read in the typical manga fashion - right to left. I would definitely prefer the adaptation of Pride & Prejudice over Les Miz. As everyone of the characters and their graphic representations just brought a new integrity to the tale ad I loved every bit of it.
"A gorgeous manga adaptation of Pride & Prejudice"
Genre :
Graphic Novel, Manga, Classic
Publisher:
Udon Entertainment
Release Date: 11th August, 2014
My Copy: publisher and netgalley
Rate:
5
/5 (It was Amazing)
Buy:
Amazon