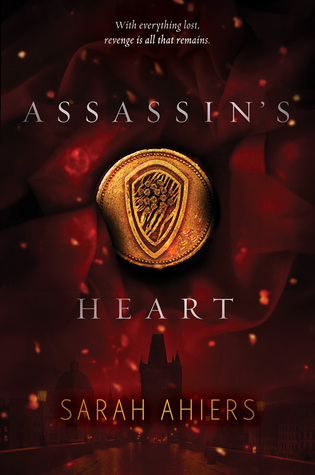 Presenting
Assassin's Heart #1 Assassin's Heart by Sarah Ahiers
.
Here is the summary of the book:
In the kingdom of Lovero, nine rival Families of assassins lawfully kill people for a price. As a highly skilled member of one of these powerful clans, seventeen-year-old Lea Saldana has always trusted in the strength of her Family. Until she awakens to find them murdered and her home in flames. The Da Vias, the Saldanas' biggest enemy, must be responsible—and Lea should have seen it coming. But her secret relationship with the Da Vias' son, Val, has clouded her otherwise killer instinct—and given the Da Vias more reason than ever to take her Family down.

Racked with guilt and shattered over Val's probable betrayal, Lea sets out to even the score, with her heart set on retaliation and only one thought clear in her mind: make the Da Vias pay.

With shades of The Godfather and Romeo and Juliet, this richly imagined fantasy from debut author Sarah Ahiers is a story of love, lies, and the ultimate vengeance.
More of a His Fair Assassin (by Robin LaFevers) meets Romeo & Juliet and The Godfather, instead of without the latter. Assassin's Heart by Sarah Ahiers takes those elements and manages to wrangle a fascinating and exciting plot that befits its gorgeously attired cover. Here are Assassins or called clippers. Beautiful Italian architecture. The Goddess of death and resurrection Saefrella, revered throughout Lovero by the Assassins and the commoners alike. The nine clipper families warring to attain the first status. And in the middle of it all is Lea Saldana and from the rival Da Via clan her beau Val Da Via.
Lea and Val are lovers but their respective clans, the Saldanas and Da Vias have been at differences with each other for quite sometime. Thus they kept it all a secret but then Saldana family house burns to the ground and she knows somehow Val is responsible. The sole Saldana left, with revenge in her mind, she sets out to Yvain to seek help and maybe meet her destiny.
The author could have easily kept her plot true to the Romeo & Juliet scenario by keeping Val innocent till proven otherwise but thankfully she doesn't. And that is where the story really begins to take shape. Lea was a strong, brave, and resilient human being. God fearing and duty bound in her calling. She loves deeply but not blinded by said feelings. She is also the clipper who uses poisons and is very good at her job. Of course life strikes back and Yvain proves to be equally informative and full of surprises as well as trouble.
Val definitely was not my favorite of the lot but Alessio was a charmer. His connection with Lea may appear instant but their road to such realizations was an exciting event and I enjoyed every bit of the show. He is a budding clipper and very talented and eager enough to learn the trade. He clicks with Lea in a way Val never could and that in my opinion raised the stakes very much.
The narrative may have been slow at first but it picks up speed pretty soon with some well placed secrets and twists to keep things interested. Although the story was entertaining in its own rights but it doesn't nearly capture our attention, so it gets a star less from me ....... but on the whole a good first book by the author. I will surely keep watch for future sequels in this series.

"Fans of His Fair Assassin will enjoy this debut"
Genre : Young Adult, High Fantasy, Romance
Publisher: Harper Teen
Release Date: 2nd February, 2016
My Copy: publisher & edelweiss
Rate:
4
/5 (Really Liked It)
Buy: Amazon | Book Depository