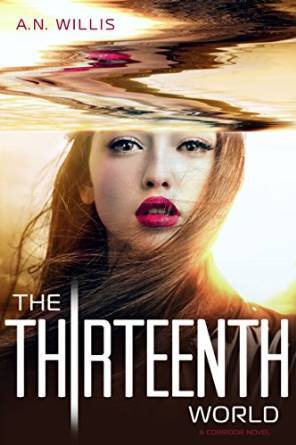 Presenting
The Corridor #2 The Thirteenth World by A.N. Willis
.
Here is the summary of the book:
Time is running out for Stel Alaster. The Corridor, the only portal between First and Second Earth, is failing and the barriers between all twelve worlds are thinning. Using her unique ability to travel through the multiverse, Stel sets out to save the Corridor . . . and ends up discovering a mysterious new world.

In the sequel to The Corridor, will the thirteenth world hold the key to the Corridor's secrets? Or will the portal implode and take every last universe down with it?
Alternate realities - Worlds - Dimensions, words taken in context maintain the same meaning whichever way demonstrated. A. N. Willis' The Corridor series with the first book of the same name and the 2nd book titled, The Thirteenth World speaks of alternate worlds, especially Earths and at the center of it Stel Alaster with the special power of creating doorways to said Earth(s) and how she must battle to save her Earth before it gets destroyed by forces beyond fathom.
Sci-fi at its best. It is not uncommon to come across alternate dimensions in this genre. In regards, The Corridor duology exerts its presence by being the series that revolves around inter-dimensional travel with proven or otherwise argued theories to support its plot. With the right balance between the fantasy and the science, the plot, the characterization and the world building, the finale proves both breath-taking and exciting. Well paced plot and exciting twists & turns, the thirteenth World keeps us well on the edge of our seats as we journey with Stel and Cohl and everyone else's desperate attempt to divert the oncoming storm.
Emotions raging higher than ever, Stel proved to be a worthy heroine yet again. She brave, fearless and very much reckless, loyal to a fault and compassionate to the deserving. She loves Cohl without abandon but she is also capable of sacrificing that love if that meant he be safe. Cohl was the best of the lot. He had the patience of a saint, knowing that when Stel up her mind for something there is no stopping her, so he doesn't try to stop her but tries to help, the much he is capable.
Really, I loved every bit of the book and browsed through the pages as the finale took shape right infront of our screens. The only thing I found confusing were the names of the Earths. I got confused alot about the different zodiac Earths but other than that this is one of my favorite sci-fi series and since both the first and the second books were gladly lended by the publisher and netgalley. So I am definitely getting their ebooks soon. This is a solid and much entertaining ..... Well done!
"Exciting and unputdownable till the end. This is a sci-fi not to be underestimated"
Genre : Young Adult, Sci-fi, Thriller, Dystopia, Romance
Publisher: Alloy Entertainment
Release Date:
29th September, 2015
My Copy: publisher & netgalley
Rate:
5
/5 (It was Amazing)
Other Books in the Series(review links):
Buy:
Amazon