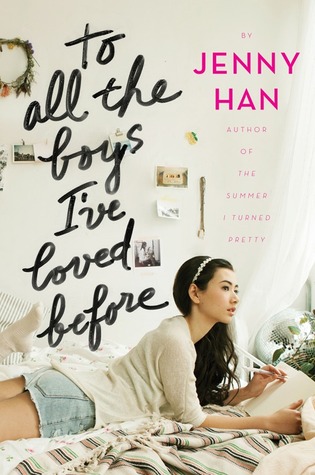 Presenting
To All The Boys I Have Loved Before #1 To All The Boys I Have Loved Before by Jenny Han
.
Here is the summary of the book:
Lara Jean keeps her love letters in a hatbox her mother gave her.

They aren't love letters that anyone else wrote for her, these are ones she's written. One for every boy she's ever loved—five in all. When she writes, she can pour out her heart and soul and say all the things she would never say in real life, because her letters are for her eyes only. Until the day her secret letters are mailed, and suddenly Lara Jean's love life goes from imaginary to out of control.
Sugar. Spice. And Everything nice ..... right sorry don't confuse this with Powerpuff girls but Jenny Han's To All The Boys I've Loved Before, felt just like that. Its sugary. Its Bubbly. Its Cute. And all round perfect. I am no contemporary fan but I decided to make an exception for it after reading such glorious reviews for this delightfully precious drama of middle sister Lara Jean and her clandestine love letters to the 5 boys she ever loved.
Mind you those letters are only meant to be for closure and not to be seen by the addressed boys. But somehow they get sent. One returned to Lara Jean. Another turned out to be gay. One didn't say anything to her. Then there is her next door neighbor, her best friend and older sister Margo's ex-boyfriend, Josh Sanderson and the last to Peter Kavinsky, the school heartthrob and her first kiss.
Lara Jean was a cutie. A dreamer at heart and the middle sister between Margot and Kitty, she tries to uphold her relationship with her sisters. She tries to be a good daughter to her father. Optimistic by nature, loyal to a fault. She decides to get a fake boyfriend just so Josh won't regret no looking to her before and so he and Margot can get back together.
And then goes and falls for said fake boyfriend. (I'm pretty sure you all know who that is if you are familiar with the story ... if not that's great and I'll congratulate myself on keeping this spoiler free) after spending time and getting to know the guy. He was definitely a likable guy, this fake boyfriend. His public image may say otherwise but he was a considerate boyfriend to Lara Jean and brought a different color to her life aside from all the drama and angst surrounding them.
Its not exactly a love triangle here. Pretty clear who should be with who because Lara Jean and that guy had a pretty great chemistry and they shared some very poignant and swoon-worthy scenes together. Jenny Han really puts it on the go here. The narrative doesn't feel forced at all but rather maintains the perfect pace and just flows like water.
The whole book maybe filled with cliches but Han keeps it simple and charming. The romance is important but family is very very important. Before you know it, you are so into the story that you don't wanna let go at all and it has you warm and fuzzy all over ..... because i'll say it again its cute and so - so perfect ...... But why did it end there *gasps* *oh the horror*.... why didn't I get the second book too, when I bought this one .... Need it ASAP ..... I TOTALLY RECOMMEND THIS.
"A charming tale so easy to get into and so fun to experience"
Genre : Young Adult, Contemporary, Romance
Publisher: Simon & Schuster Books for Young Readers
Release Date: 15th April, 2014
My Copy: bought (hardback)
Rate:
5
/5 (It was Amazing)
Buy: Amazon | Book Depository