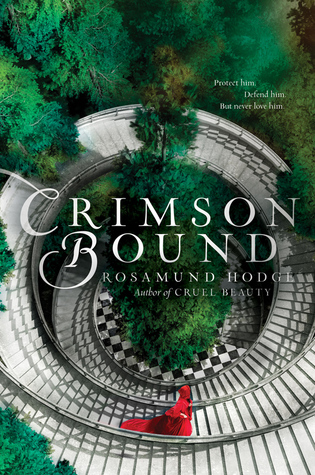 Presenting
Crimson Bound by Rosamund Hodge
.
Here is the summary of the book:
When Rachelle was fifteen, she was good—apprenticed to her aunt and in training to protect her village from dark magic. But she was also reckless— straying from the forest path in search of a way to free her world from the threat of eternal darkness. After an illicit meeting goes dreadfully wrong, Rachelle is forced to make a terrible choice that binds her to the very evil she had hoped to defeat.

Three years later, Rachelle has given her life to serving the realm, fighting deadly creatures in an effort to atone. When the king orders her to guard his son Armand—the man she hates most—Rachelle forces Armand to help her find the legendary sword that might save their world. As the two become unexpected allies, they uncover far-reaching conspiracies, hidden magic, and a love that may be their undoing. In a palace built on unbelievable wealth and dangerous secrets, can Rachelle discover the truth and stop the fall of endless night?

Inspired by the classic fairy tale Little Red Riding Hood, Crimson Bound is an exhilarating tale of darkness, love, and redemption.
'Crimson Bound' sure had us bound since the first glance at the cover. Of course a closer look revealed that Crimson Bound is not a sequel to the author's debut 'Cruel Beauty'. Of course we rejoice in the happy ending of Nyx & Ignifex and proceed to Rachelle's journey as she looks for retribution and redemption as she battles her calling as a bloodbound, guarding the bastard Prince Armand and trying to destroy the Devourer himself before he is able to usher in the endless nights.
A reckless decision made her a blood bound. Bound her to the forest. An act of being marked and chosen by a Forestborn. Not quite human anymore but with the added abilities, accelerated speed and healing, Rachelle hunts the woodspawn, creatures of the forest of all shapes and sizes and protects the humans. And Rachelle has proven she is no waif. Tough, kick-ass, intrepid and a warrior with a conscious is how I would categorize her. With a calculating personality and an impulsive streak, she along with her Erec are very good at their job.
Rachelle and Erec have a hot and cold relationship. Erec is a flirt and Rachelle sees her giving in to him as becoming just a number on his long list of conquests and she doesn't want that of course, things take an interesting turn when she is ordered to guard Armand. A saint to the people and apparently the only one to resist the mark of the Forest.
While not as strong or as buff as a bloodbound, Armand can hold his own. Intelligent, shrewd and really we readers and for that matter Rachelle can't help but be intrigued by him. Amidst all the darkness and destruction it is refreshing to witness the rapport between Armand and Rachelle, from snippy and suspicious they began and prolonged exposure turned that into something beautiful and compatible. Secrets and secrets later, they began to understand and stood tall together to face the coming of the enemy.
The romance is there of course but a much muted version and rather up-in-the-air sort. Unlike 'Cruel Beauty', 'Crimson Bound' takes its cues from the story of Red Riding Hood and it is more grittier. The book is long and felt lagging in places but the action and the lore and the secrets revealed are well worth the hassle. With Rosamund Hodge expertly pulling the reign with her mystical writing and intense characters, you just can't help but be one with her original ideas of fairy tale re-tellings. Eager to see what she does next.
"Make way for the new kick-ass Red Riding Hood"
Genre :
Young Adult, Fairy Tale re-tellings, Paranormal, Romance
Publisher: Balzer+Bray
Release Date: 5th May, 2015
My Copy: publisher & edelweiss
Rate:
4
/5 (Really Liked It)
Other Books from Author (review links):
Cruel Beauty
Buy:
Amazon
|
Book Depository