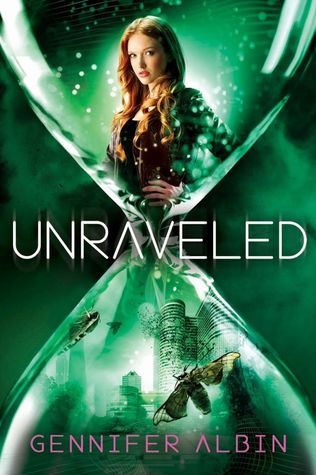 Presenting
Crewel World #3 Unraveled by Gennifer Albin
.
Here is the summary of the book:
Autonomous. Independent. Dangerous. They tried to control her. Now she'll destroy them.

Things have changed behind the walls of the Coventry and new threats lurk in its twisted corridors. When Adelice returns to Arras, she quickly learns that something rotten has taken hold of the world and Cormac Patton needs her to help him reestablish order. However, peace comes at a terrible price. As the Guild manipulates the citizens of Arras, Adelice discovers that she's not alone, and she must let go of her past to fight for mankind's future. She will have to choose between an unimaginable alliance and a deadly war that could destroy everyone she loves.
Unraveled as a whole felt disappointing. 'Crewel' was the cream of the crop, 'Altered' almost following at the heels but 'Unraveled' left a bitter after taste. Unraveled was supposed to be the big showdown, the big action-packed finale but somehow the whole experience felt anti-climatic and lackluster. Starts where Altered ended and man does it crawl at the slowest of speed imaginable.
Thing is Altered promised us a lot but Unraveled went stale on them. Beginning where the second book left but then as I mentioned things just went the slowpoke way. Adelice was angry, scheming and rebellious in this book but apparently it was all in her mind, the one reason she had decided to give herself up was because she was confident she would be able to change Cormac Patton's mind and work to severe Arras from Earth as was planned.
Apparently all of that character development that happened in the first 2 books were for naught because she remained rather docile in the face of the enemy. The most powerful of all the spinsters and she just gave in and let things run in its own way. Of course when the action begins.... was the best part of the book because really Adelice wasted our time ..... I kinda get that maybe Albin was trying to establish that tense atmosphere of Arras but it didn't bear much fruit.
Jost & Eric didn't get much page space too. Really again after all that and seeing virtually nothing here was disappointing. And I don't believe i'm saying this but Cormac Patton, our villain extraordinaire was the one who commanded much space here and rather shone through what with his dissent into insanity. The resulting climax was good of course but the post climax chapters were a bit too much and not really needed. Unraveled was a bittersweet after taste but I will totally look for what Gennifer Albin publishes next.
"A bittersweet finale to an exotically exciting adventure"
Genre :
Young Adult, Sci-fi, Dystopia, Post-Apocalyptic, Romance
Publisher:
Farrar, Straus and Giroux (BYR)
Release Date: 7th October, 2014
My Copy: bought (ebook)
Rate:
3
/5 (Liked It)
Other Books in the series (review links):
#1 Crewel
#2 Altered
Buy:
Amazon
|
Book Depository