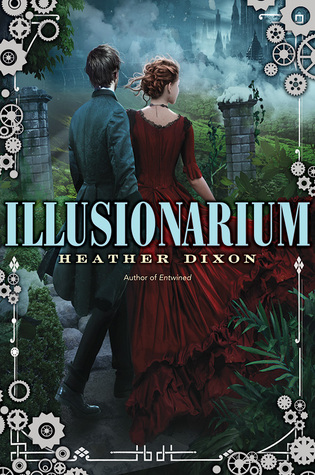 Presenting
Illusionarium by Heather Dixon
.
Here is the summary of the book:
What if the world holds more dangers—and more wonders—than we have ever known? And what if there is more than one world? From Heather Dixon, author of the acclaimed Entwined, comes a brilliantly conceived adventure that sweeps us from the inner workings of our souls to the far reaches of our imaginations.

Jonathan is perfectly ordinary. But then—as every good adventure begins—the king swoops into port, and Jonathan and his father are enlisted to find the cure to a deadly plague. Jonathan discovers that he's a prodigy at working with a new chemical called fantillium, which creates shared hallucinations—or illusions. And just like that, Jonathan is knocked off his path. Through richly developed parallel worlds, vivid action, a healthy dose of humor, and gorgeous writing, Heather Dixon spins a story that calls to mind The Night Circus and Pixar movies, but is wholly its own.
A great cover. Alternate history. Steampunk. Aerial Cities. Alternate world. Are all the ingredients needed to get the end result called Illusionarium. I haven't read Entwined, so this is my first experience with this author. And it was quite enlightening. An adventure to a different reality and the search for self-worth is what this really about. Also not that serious but much more witty, humorous & fantastical.
Illusionarium follows the story of Jonathan who lives with his family on the aerial city, Fata Morgana. Apprenticed to his father, the second best scientist/surgeon of the country. But then the attack of the deadly virus, Venen, known only to affect women strikes the city. The King comes a-knocking resulting in not only the Queen but Jonathan's mother & sister also in the casualty list. Jonathan going against the moral ethics of his father takes the help of fantillium, a newly discovered drug that can cause illusions .... and Lady Florel the best scientist/surgeon isn't Lady Florel.
There is London on one hand and Nod'ol, and alternate reality on the other hand. Where illusions and illusionists are in high demand. The story really takes shape when Jonathan enters Nod'ol, a world with its own sets of rules that horribly clash with our own. Under duress he is being made to take part in an illusion creating contest against two other highly competent Illusionists for the 'other' Lady Florel to get the cure for Venen.
Fantasy literally means the unreal. Illusions as a matter of fact are just the same. Quite ingenious of Dixon to create an alternate world to show just what illusions or the make-belief can do when given free reign of the physical world. The excellent world building really adds the fun to Illusionarium. Drawing similarities to (in my reckoning) the Imaginarium of Doctor Parnassus & Tim Burton's Alice in Wonderland. Although the synopsis states The Night Circus & Pixar movies but really I didn't see much similarities in that reference as opposed to the first two recommendations anyway.
And while Jonathan proved rather adorable describing people along the lines of "absolute kind of person" or "sort of person", it is the Officer Lockwood really who really stands out. He can't really illusion anything but has a sort of a love-hate relationship with "Jonny-boy". Very trigger happy too. But really he was just baffling-ly humorous ...... For all instances & purposes Illusionarium is a fantastically magnificent story, not my favorite by far but Heather Dixon sure leaves an impression here.
"Enchanting-ly original and fantastically illuminating"
Genre : Young Adult, Steampunk, Sci-fi, Paranormal
Publisher: Greenwillow
Release Date: 19th May, 2015
My Copy: publisher & edelweiss
Rate:
4
/5 (Really Liked It)
Buy: Amazon | Book Depository