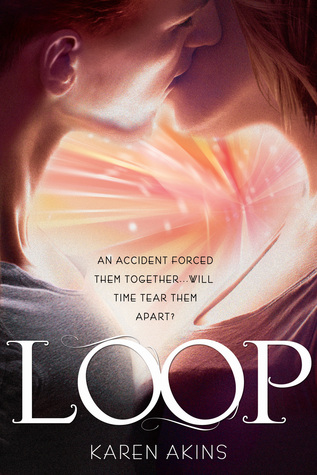 Presenting
Loop #1 Loop by Karen Akins
.
Here is the summary of the book:
At a school where Quantum Paradox 101 is a required course and history field trips are literal, sixteen year-old time traveler Bree Bennis excels... at screwing up.

After Bree botches a solo midterm to the 21st century by accidentally taking a boy hostage (a teensy snafu), she stands to lose her scholarship. But when Bree sneaks back to talk the kid into keeping his yap shut, she doesn't go back far enough. The boy, Finn, now three years older and hot as a solar flare, is convinced he's in love with Bree, or rather, a future version of her that doesn't think he's a complete pain in the arse. To make matters worse, she inadvertently transports him back to the 23rd century with her.

Once home, Bree discovers that a recent rash of accidents at her school are anything but accidental. Someone is attacking time travelers. As Bree and her temporal tag-along uncover seemingly unconnected clues—a broken bracelet, a missing data file, the art heist of the millennium—that lead to the person responsible, she alone has the knowledge to piece the puzzle together. Knowledge only one other person has. Her future self.

But when those closest to her become the next victims, Bree realizes the attacker is willing to do anything to stop her. In the past, present, or future.
'Loop' was literally 'Wibbly-Wobbly Timey-Wimey'. Before I begin, let me make a suggestion, buy both 'Loop & Twist' before you begin reading this series ..... because this killer timey -wimey stuff will blow your head off if you leave it in the middle. My first reaction when I saw the cover, I just knew I had to get this book and it had time travel too, so I was sold .... Then I read the book and my reaction was that Akins did a good job keeping the storyline complicated.
A future where Shifting or Time-travel is a genetic ability that manifests in select few of the human race. Quantum Paradox 101 is a required subject and historical field trips literally means trips and assignments to the past. Bree Bennis is a shifter in this world and botches her midterms. An incident that results in unprecedented consequences she didn't think are possible. But then she goes back to set things straight and meets Finn Masterson. She met him three years ago according to his time and he acts like he knows intimately.
Meaning she comes to know him in the future .... Of course, it all gets even weirder. There is a Future Bree running around and Finn who isn't supposed to be a shifter somehow hitch-hikes a ride to the future. There is an enemy every step of the way and a mysterious phrase from their close acquaintances leads them around and round in circles.
A bit warped as far a the pacing is considered and info-dump of the weirdest kind. Karen Akins does a good job of patching up the path and as we get used to the pacing, we start to enjo this fun and very dangerous adventure. Time travel with all of its theories and paradoxes can be a hard nut to crack but the book does a decent job of making us understand. You also need to pay attention to every written world here, with its skewed plot and its increasingly overlapping and complicated sequences.
Future Bree and Past Bree must play their separate roles in order for the Bree of the present to solve the problem. Weird isn't it ..... Well I did mange to keep patient throughout even if I was starting to loose it .... So I should really congratulate myself on that.
The romance was a bit iffy at best. They are one unique anachronistic pair and really while I loved their constant banter throughout, they didn't really exude the passion or for that matter the chemistry. A chemistry that would have been obvious. They were a fun pair to read as we see Bree coming to value Finn and little-by-little fall for Finn (the hot and lean boy from the past) .... Is anybody feeling like Doctor Who and River Song here? Because I did .... and don't forget the Mona Lisa features too.
Bree proved to be quite the resourceful heroine, Finn following close behind. The characters grow and develop well throughout the book and the tangled plot proves itself by methodically untangling its tendrils as we reach the end. Loop stood for a fun, challenging and reproductive tale that improves itself on closer inspection .... the perfect example for the time - travel genre.
"Enjoyably complex and enchantingly timey-wimey"
Genre : Young Adult, Sci-fi, Fantasy, Romance
Publisher: St. Martin's Griffin
Release Date: 21st October, 2014
My Copy: bought (ebook)
Rate:
3
/5 (Liked It)
Buy: Amazon | Book Depository